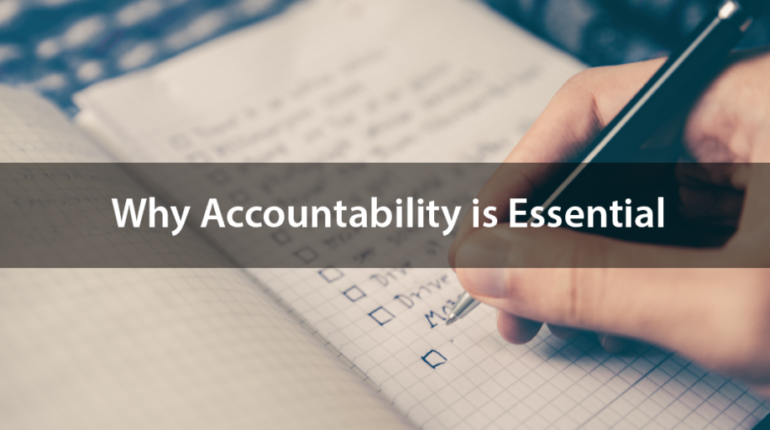 When most people think of accountability, they just connect it with responsibility, but it is actually a much more powerful than that.
At Rivera Group, we define accountability as the promise to take full ownership of our commitments. Along with our other CORE4 values, accountability guides our work and allows us to continue to build great things.
To do good work on time, accountability is essential for each step of the process. Implementing this value into your daily routine will lead to improved performance, higher job satisfaction, and increased creativity and innovation.
A World without Accountability
Bob Waterman tells a captivating story in his book, Adhocracy: The Power to Change, of how an energy company conquered their lack of accountability.
The employees understood that they were responsible for the way the company performed. However, 'they' was not a team, department or even anyone in the company. Rather, it was used as a nameless, faceless group that quickly became the center of blame. Employees would rationalize delayed or wrong work by explaining that they were the ones responsible for mistakes, which continuously caused costly errors.
To fight this absence of accountability, one bold company leader decided to use a sense of humor to remove they from the company. Posters were put up around the building that stated "Send they a letter," and employees were given coffee mugs that read "Who are they anyway?"
Through his actions, this leader created a new mindset for the workers that greatly improved their accountability and explained that this was no longer an acceptable excuse.
Meeting Commitments
In a rapidly changing industry, our EAGLE6 team of software developers and engineers work in tight 14-day development cycles.
Georgette Jacobs, an EAGLE6 team leader, explains the prevailing mindset. "We're a tight-knit team here, and we're always working hard to meet what we've committed to – and holding each other accountable for any shortcomings."
One team member, Patrick Rigney, understands he must first hold himself accountable before he holds the rest of the EAGLE6 team to the same standards. He continuously delivers exceptional work in a timely manner and encourages his co-workers to be accountable by sending out friendly reminders of the group's commitments.
In this fast-paced environment, teammates rely heavily on the work of others to meet their commitments. For this group, accountability brings trust, and team members can rest assured that each individual will have their work ready for the rest of the team.
Focusing on the End Goal
Our IT Support teams work closely with our clients to ensure we create custom solutions that fit our client's unique needs. Since these needs can often change, it is important to hold ourselves accountable to reaching the end goal.
"Accountability is such an important value that is pertinent to all aspects of life," said Gena LaBuwi, an IT Services Program Manager, "As a part of the Rivera Group team, I strive to be accountable to my team members, my customers and my company each day."
Many times, our IT support team will receive conflicting support requirements or different directions that can switch from one day to the next. However, our experienced IT staff focuses on the end goal of the project, and they don't allow changes to slow them down.
Take Advantage of Accountability
Accountability is more than just accepting responsibility, it is a powerful tool that leads to trust and persistence. Without it, the wrong mindset can bring costly errors or missed deadlines.
At Rivera Group, we integrate accountability in each project and task that we take on because, without it, we'd never build great things.