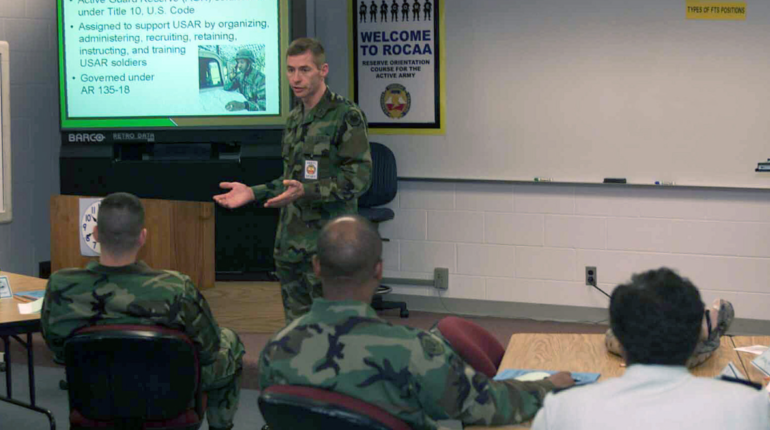 The Challenge
The 83rd U.S. Army Reserve Readiness Training Center (ARRTC) is an academic institution accredited by the U.S. Army Training and Doctrine Command (TRADOC) and civilian agencies to prepare soldiers and civilians to prevail in complex and uncertain environments through education and training, with 38 courses in the areas of:
Leadership
Sustainment
Security
Readiness
ARRTC needed help managing Training Automation Support Services (TASS), which included software support, database administration, hardware maintenance, and WAN/LAN operations for four separate locations:
ARRTC – Fort Knox, KY
Joint Base McGuire-Dix-Lakehurst (JBMDL), NJ
Camp Parks, CA
Fort McCoy, WI
Additional technical support was needed at the Non-Commissioned Officer Academy (NCOA) Command Post of the Future (CPOF), located at Fort McCoy, as well as the Regional Level Automation System (RLAS), located at Fort Knox.
ARRTC wanted a contractor with a proven track record of managing complex, multi-site operations efficiently and cost-effectively, who could handle all the necessary management, staffing, equipment and other details required to successfully perform all TASS-related services. 
Free Download
See how ARRTC maintained and supported critical military training systems and programs.
Don't worry, we hate spam too. We won't share your details with anyone.
The Solution
Rivera Group hit the ground running and quickly set up Tier 2 touch support, systems imaging, software support, database administration, and hardware maintenance for more than 2,000 systems across the locations. We delivered simulation support for the CPOF, a C2 software system that allows commanders to visualize the battlefield, make critical decisions and communicate with others, up-and-down the chain of command. 
We also managed the following: 
File transfers

 

Electronic mail

 

File services

 

Data backups

 

IT administrative and analytical support

 

Internet and login authentication

 
The Results
Due to our extensive experience in each of these disciplines, we have retained this contract since 2012, keeping the ARRTC mission operational 24/7/365. Our performance evaluations are a testament to this level of expertise. 
'They were well-prepared, reliable, knowledgeable and professional,' said one assessor. 'They regularly developed approaches and processes improving performance.' 
Other comments included:
Quality: 'The contractor's performance providing support for the Regional Level Application Support (RLAS) Training System and Command Post of the Future (CPOF) training simulator was at a highly professional level. Contractor personnel were knowledgeable in every aspect and provided reliable and timely support. Complex issues were resolved with a minimum of disruption to training. Every solution was documented in detail.'